August 2023
Styling 2021 interior design trends with furniture films
A new year means new interior design trends. In this blog, we will show you the top trends of 2021 and how to implement the different styles with self-adhesive furniture films. With easySTYLE self-adhesive films you can easily redesign any interior like stores, exhibition booths or private living spaces. With the interior design film you can create a new look in no time – a sustainable solution to implement new interior trends.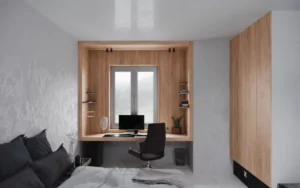 Trend 1: Light wood
Last year, we already saw a lot of light wood, especially in Scandinavian-style interiors. In 2021, we will also see light wood in industrial-design-themed spaces and more luxurious interiors. If you want to follow the trend, opt for light-colored wood like Acacia wood, bamboo, light oak or light MDF. This trend is perfect not only for floors and wall accents, but also for furniture. Do you want to change the decor at the POS or do you have furniture that is still in good condition but out of date? With easySTYLE scratch-resistant interior design films – available in 15 different designs – you can easily transform existing furniture. This film is suitable for applications on almost all smooth surfaces such as plywood and MDF boards, solid wood, plastics, metal and painted surfaces.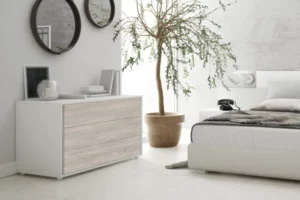 Walls or cabinets and sideboards look great with the  easySTYLE designs Ashton, Sonoma Oak or Rovere Gessato. Complete the look by adding an industrial vibe with black steel elements. Ideal for private living spaces, stores or trade show construction. Are you crazy about the Scandinavian style? Combine light woods with white accents such as marble. For this style, you can use easySTYLE White Super Matt and create beautiful combinations.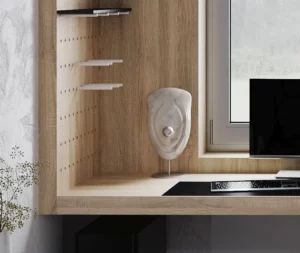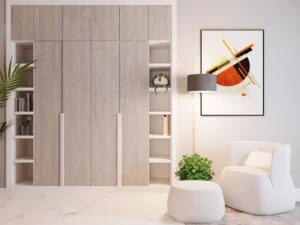 Trend 2: Gray as a basic color for interior design
Gray is back and we will see a lot of it in 2021. It is perfect as a wall color instead of using standard white. Walls look more luxurious in a soft shade of gray, and a beautiful painting will stand out better. If you are not convinced yet, incoporate gray on cabinets or sideboards only. Concrete imitations are a nice way to add a gray look to an interior. Concrete is also ideal, if you want to give a rustic look to private living spaces, a retail store, a trade show booth or retaurant in an easy and budget-friendly way. With the perfect concrete imitation of easySTYLE Meton Concrete,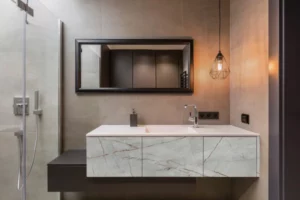 a concrete look does not require a costly renovation. Or opt for a gray marble look with easySTYLE Caspio.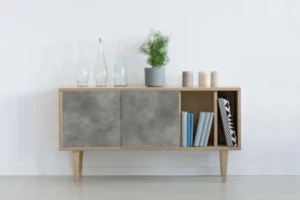 easySTYLE is also a good choice in terms of sustainability. In addition to the reusability of existing furniture, the material has a certified chemical resistance (DIN68861), is PVC-free and is based on paper.
Trend 3: The Mid-Century Modern Style
Do you want to decorate a restaurant, your private living room or a store interior in a cool Mid-Century Modern style and are you looking for inspiration? Just turn on the famous TV show Mad Men. The decor and clothes perfectly portray the Mid-Century style. Think dark wood, lots of light, combined with touches of gold, copper or brass and modern details. A hit back then, this style is now coming back. This year, we will see more and more of the characteristic elements of the 60s style. These include kitchens in dark wood, like dark oak or walnut, and cabinets with rounded finishes instead of corners. Oval and round kitchen tables are also on the rise. With easySTYLE Catanio Oak, with its warm, dark wood design, you can transform smooth and flat surfaces in the kitchen quickly and easily.
And do not forget about the combination with gold or copper. By adding easySTYLE Meton Gold or Meton Copper, you can create great accents.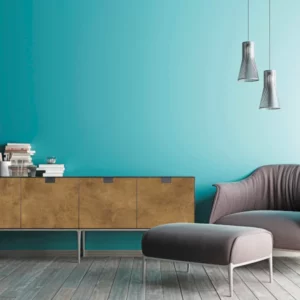 Trend 4: Simple, black interiors with striking details.
Not entirely new, but still a trend: black and minimalistic designs. We have seen this many times in the past years. This year, the minimalist look is  combined with dark woods and other dark colors, such as black oak or dark walnut. The easySTYLE Anthracite Super Matt design fits perfectly into this style with its anthracite matte color.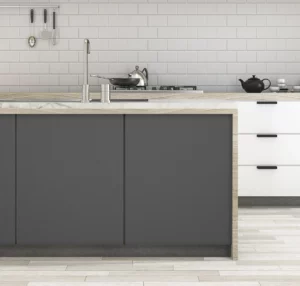 With easySTYLE self-adhesive films, you can quickly achieve a high-quality black matte style, which is great for stores and exhibition stands that need frequent and easy renovation. If black is too dark for you, opt for easySTYLE Kiruna with its dark gray design. For a stylish finish, create combinations with eye-catching accents that stand out.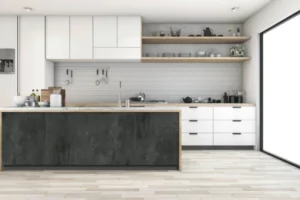 What trends will you be working with?
Interior trends are ever-changing. So in case you want to redecorate again in in the future, you can easily remove easySTYLE interior films without leaving any adhesive residue. Do you already have an idea of how you want to implement the new interior design trends? Or would you prefer to take a closer look at the easySTYLE designs first? Feel free to request samples, before you get started with the beautiful interior trends.
Order sample now!