NO IFS OR BUTS, BUT SIGNED AND SEALED
For more than 125 years NESCHEN stands for creative and innovation coating solutions and our products convince national and international juries on a regular basis. Here you find all our awards.
POPAI  CZ
August 2019
Since August 2019, Neschen Coating has been a member of POPAI CZ, a progressive industry association promoting best practices to enhance the shopping experience.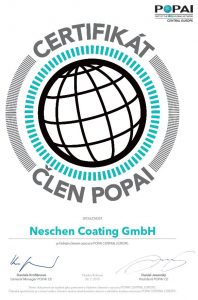 viscom
Best of 2015 Award
handelsjournal
TOP PRODUKT HANDEL 2012
viscom
Best of 2011 AWARD
display
Superstar 2010
viscom
INNOVATION AWARD 2009
CONVERTER OT THE MONTH September 2008