August 2023
Are you already choosing PVC-free alternatives for print media?
Although PVC's hazards to the environment are well known and steps have been taken in a more environmentally friendly direction, PVC is still widely used in the print media industry. Fortunately, the more sustainable options seem to be gaining popularity. Those who visited FESPA Amsterdam might have noticed that terms like "environmentally friendly", "PVC-free" and "sustainable" were a common theme at the fair. The global situation and the long-term trends in sustainability, health, and well-being are fundamental to this. More and more companies and well-known brands are discontinuing the use of PVC and looking for PVC-free alternatives.
Harmful effects of PVC as a raw material for print media
PVC (polyvinyl chloride) is an originally rigid plastic that is transparent, fire-resistant, and deformable at high temperatures. By adding additives to the material, you can give PVC all kinds of other properties. The notorious plasticizers, for example, make the material flexible, but certain additives can also improve color, stability, and resistance to cleaning agents. When PVC burns, dangerous substances, such as chlorinated hydrocarbons, are released. In addition, the plasticizers used are released into the environment. These plasticizers can be harmful to the environment and health.
Major parties recommend avoiding PVC
Major parties awarding cradle-to-cradle (C2C) certificates already recommend avoiding the use of PVC. But the list of major corporations, like Microsoft and Unilever, as well as large printing houses that have a policy of avoiding PVC, continues to grow. In some sectors – hospitality and health care, for example – alternatives are often chosen anyway, as they are subject to strict plasticizer regulations.
These drivers, combined with a need for more sustainable forms of print media, the availability of high-performing PVC-free alternatives (PP, PET, and nonwovens), and a significant narrowing of the price difference, are making it easier to replace PVC.
PVC-free alternatives for PoS and interior decoration
In the past, PVC-free products did not perform as well or were not favorably priced in comparison to PVC materials. But this is no longer the case, as PP is a good alternative to PVC. The raw material PP (polypropylene) is recognized as an environmentally friendly alternative, as it is a very simply constructed plastic  consisting of carbon and hydrogen, and moreover, is obtained anyway as a "by-product" in the petroleum industry. PP also bends and forms well at high temperatures. It is strong and stiffer, allowing up to a 40% reduction in raw material use to achieve a similar film haptic. And the significant advantage of this raw material is that no plasticizers are needed to make it flexible. PP is naturally resistant to acids. Moreover, when heated, no harmful substances are released. Because PP has to undergo various treatments to make it suitable for printing, it is slightly more pricier than PVC print media.

But besides PP-based media, there are other suitable PVC-free alternatives:
easy dot® PET matt L-UV. This environmentally friendly PET film consists of 25% recycled material (the maximum possible content to remain the properties). As polyester is a more rigid material, less material is needed to achieve the same haptic perception as PVC, which results in a material saving of 40%, allowing waste volumes to be significantly reduced.
easySTYLE self-adhesive furniture film. This is a fast and economical way to do interior design and shop fitting. Our furniture films are made to high sustainability standards to protect the environment. The material is a combination of PET and paper and is therefore 100% PVC-free.
Neschen fleece wallpaper of the GREEN WALL range. These are digitally printable non-woven wallpaper, PVC-free, suitable for indoor applications such as the interior design of shops, restaurants, trade fairs, museums, and living spaces. Besides smooth versions, some different textures and self-adhesive versions are available.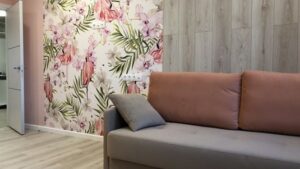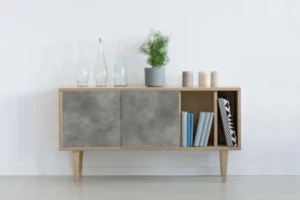 Have you already opted for PVC-free?
Are you ready to take the step to the more sustainable PVC-free alternatives? Not only do these materials perform at the desired level and are price competitive, but in some cases, they are even cheaper than the PVC equivalent. Curious about our PVC-free range? Download our Sustainability overview now!