August 2023
Floor graphics for outdoor & indoor promotions: Getting creative with print'n'walk
For many years, Neschen's print'n'walk range has been a customer staple. Whether for indoor or outdoor use, the print'n'walk portfolio has a solution for any application. While standard floor graphics media on the market need to be laminated for slip resistance after printing, print'n'walk products are immediately ready for use, a time- and cost-saving solution.
Getting a workout in Bondi Beach, Australia
Could there be anything better than getting a nice workout in a location that is known for its beautiful beach and sunny weather? This customer project, provided by Starleaton, Australia, takes us to Bondi Beach, where Neschen's print'n'walk took part in transforming the waterfront into an outdoor gym.
For this project, print'n'walk was used on the workout stage, where the coaches will perform their workout routines.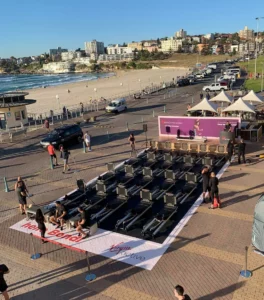 In no time, Neschen's print'n'walk gave the workout stage a decorative wooden look.
The durable anti-slip surface is an excellent choice for this purpose because it provides a secure workout surface for the coaches while giving the stage an eye-catching design.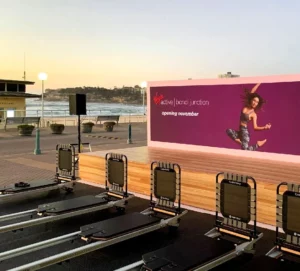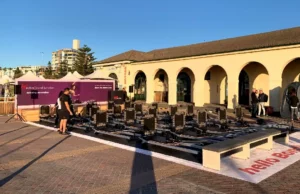 Images courtesy of: Starleaton, Australia: https://www.starleaton.com.au/
As this example shows, some of Neschen's print'n'walk media are perfectly suited for outdoor use. UV print'n'walk power-tack for example, is a true all-rounder when it comes to applications on difficult surfaces: From concrete, wood, and pavement to many other surfaces, this high-tack film is a top choice. UV print'n'walk power-tack is excellent for eye-catching advertising at the point of sale, trade shows, showrooms, or large-scale promotional campaigns. After printing with UV-curable inks, UV print'n'walk power-tack provides a R9-certified anti-slip surface. The film is perfectly suited for outdoor use in dry conditions.
An indoor playground made easy
The latest application story showing the benefits of the original Neschen easy dot® media family comes from Denmark. From our, distributor Vink Plast, we received beautiful pictures from the "kick-off" meeting at Q8 Denmark.
For Q8 Denmark, the big printing house STIBO COMPLETE truly created an unforgettable atmosphere with their creative use of Neschen UV dot print'n'walk on the floor. The result: Together, they achieved a nice and cute illusion of a traffic playground in an office space.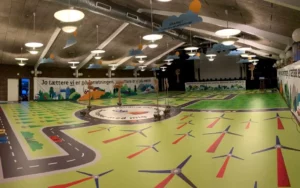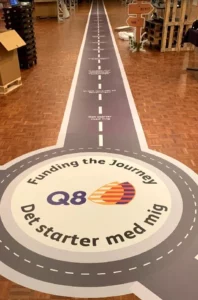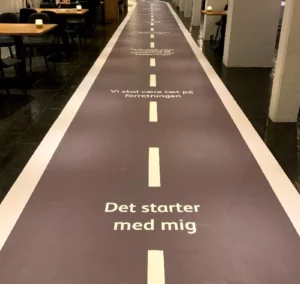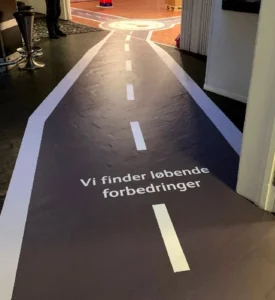 Images courtesy of: Vink Plast, Denmark, https://vink.dk/
Are you interested in Neschen's print'n'walk media? Order your free sample now!
Order sample now!