August 2023
Photo mounting | Norwegian photographer transforms interiors of fishing vessels
Ottar A. B. Anderson from Ulsteinvik is a professional Norwegian photographer who has been working with Neschen products for some time. In one of his latest projects, his outstanding work transformed the interior walls of the five newest vessels of the HAVFISK AS fleet. HAVFISK AS is Norway's largest trawler company, made up of nine vessels and 29.6 cod trawling licenses. The company primarily catches cod, haddock, and saithe. All fish are gutted onboard, and the company provides fresh and frozen fish throughout the year.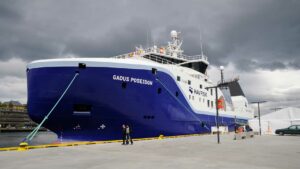 HAVFISK is Norway's largest trawler company, with nine vessels and 29.6 cod trawling licenses.
Anderson's project started in 2012, and by now, five vessels feature his high-quality photos on their walls. For mounting his photo art, Anderson used Neschen's gudy® 802 and gudy® 808. gudy® 802 is a high-quality, double-sided mounting film for digital prints and photos. The transparent adhesive film retains the original character of photo paper, a great choice for this project. Neschen's gudy® 808 opaque mounting film is excellent for cold laminating on dark boards. Thanks to the white carrier material, particularly colour-intensive images appear even more brilliant on dark substrates.
Giving the cabins' interiors a unique and artistic look.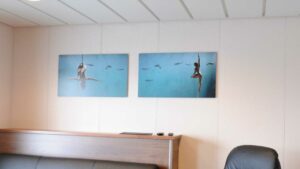 gudy® 808 has a pH-neutral adhesive that prevents catalytic processes and thus protects the quality and value of the print long term. It's powerful adhesive strength guarantees a reliable bond.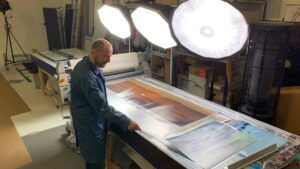 Anderson also incorporated filmolux® photo satin to laminate his works. The laminating-film works well with classical photos as well as inkjet- and digital print media. It protects the work from UV rays, almost completely absorbing the UV-B spectrum rays. Anderson's works that were installed in 2012 still feature their beautiful colors, as if they had just been hung on the wall.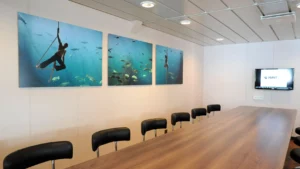 Beautiful seascapes transform the meeting room's walls. Mounting the images and not framing them is an ideal choice for this project, as framing would distract the eyes from the underwater worlds in Anderson's works.
Images: Courtesy of Ottar A. B. Anderson. E-mail: mail@variations.no