August 2023
Boost your business: creative uses of digital print media
Does fetching a chair to reach something on a top shelf sound familiar? Everyone does it every once in a while, but it is not the main purpose of a chair; after all, it was designed to sit on. It is just a day-to-day example of how innovative humans can be. It also shows that if you look a bit further than the actual purpose of an item, you might, sometimes with small modifications, be able to use the same product for totally different uses. This holds true for digital print media and other Neschen and Filmolux products as well. With a little creativity, you could target new markets and expand your sales. In this blog article, we share three examples of unconventional uses of our products.
Gudy dot tape is used for price tags
Our self-adhesive gudy® dot-tape is normally used to mount photos in albums, onto walls, or to the refrigerator; for fixing fabrics, which are to be sewn afterward; or for arts and crafts, e.g., in schools, libraries, or office spaces. But a large furniture retailer found the gudy® dot-tape to be the ideal solution for mounting price and product information onto their furniture. Everything that needs to be mounted on the furniture, tables, walls, and glass is done with gudy® dot-tape. Why? Because the tape is very easy to apply and can simply be removed by rubbing off the dots without damaging the furniture. gudy® dot-tape functions like a transfer adhesive; it does not have a carrier material.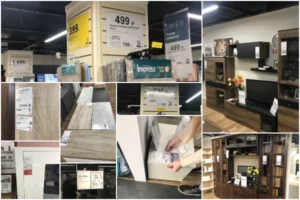 The dot-shaped adhesive can easily be transferred by placing the tape onto the surface, slightly rubbing it with your hand, and then pulling away the backing paper, resulting in the dots being transferred to the surface. In the case of furniture retailer Hoff, they used a plastic sleeve cover for their price tags. After making the price tags self-adhesive, they can be placed on any desired, surface like wood, glass, or metal. When the furniture is sold or gets new pricing, the tag can simply be removed.
Fashion bags made of banner materials
The Filmolux Flexface banner is a material that is commonly used to create large-scale banners for displays, stage constructions, and exhibitions. But an Italian brand named "Amarilla Artigianato Artistico" saw the material as a creative solution to make customized handbags. They used a black back flexface material and printed trendy, fashionable designs on it. After printing, they sew the flexface into a bag. Because the material is relatively strong, easy to clean, and can be processed on a sewing machine, it was ideal to use it for fashion bags. Moreover, it is a vegan alternative to real leather.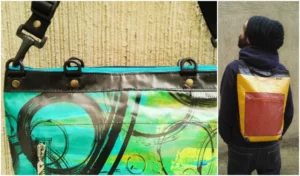 Handbags by Italian brand "Amarilla Artigianato Artistico"
Printed pillow covers
Over the years, printed materials have become more and more integrated into interior design. In addition to commercial use in advertising campaigns, printed media are increasingly used as wall, floor, or ceiling coverings. Besides the main design of a room, print media can also be used for small decorative elements like printed lampshades, curtains, or pillows. To give you an example, several years ago, Neschen created a pop-up store to show how you can design a shop by solely using printed materials. One of the decorative elements were the printed pillow covers made of acoustic textile.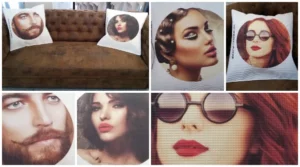 The 3D waffle structure in the textile gives the pillow a unique modern look and feel. With digital printing, it is possible to customize your designs at low costs and in small quantities. Which makes it ideal for the trend-sensitive decoration market.
Think outside the box!
We hope these three examples of how to use products for different applications have inspired you. Thinking outside the box can give you a new perspective, make you less dependent on your current customers, and boost your business.
Do you already use your products in different ways or for different purposes? Please let us know in a comment, and share your creativity with us! Want to know more about the materials mentioned in this blog? Get in touch or request a sample!