February 2020
Neschen Coating part of Stanley D project presenting possibilities of digital printing for interior design
The STANLEY D project at the Messe Düsseldorf fairgrounds showcases the innovations of digital printing as a key element for interior design. Neschen and other partners from the printing industry present digital printing applications from large format wall applications to small furniture designs.
TRADE FAIR RESTAURANT AS BEST PRACTICE CASE
The STANLEY D project, located in restaurant hall 12, presents works by artist Christoph Zierhut in combination with graphic implementations by designer Susanne Widera. The entire location was redesigned in a very short amount of time and without any structural changes. The room showcases innovations of digital printing techniques that can directly be transferred to hotel or restaurant interior projects. Photo motifs from the series "Urban Cluster Düsseldorf" by Christoph Zierhut transform the walls and give the room a touch of utopia.
In combination with the printed furniture and window surfaces, a visual language is created that is reminiscent of spaceships and outer space. The restaurant becomes a place for fantastic journeys during the hustle and bustle of the trade exhibition.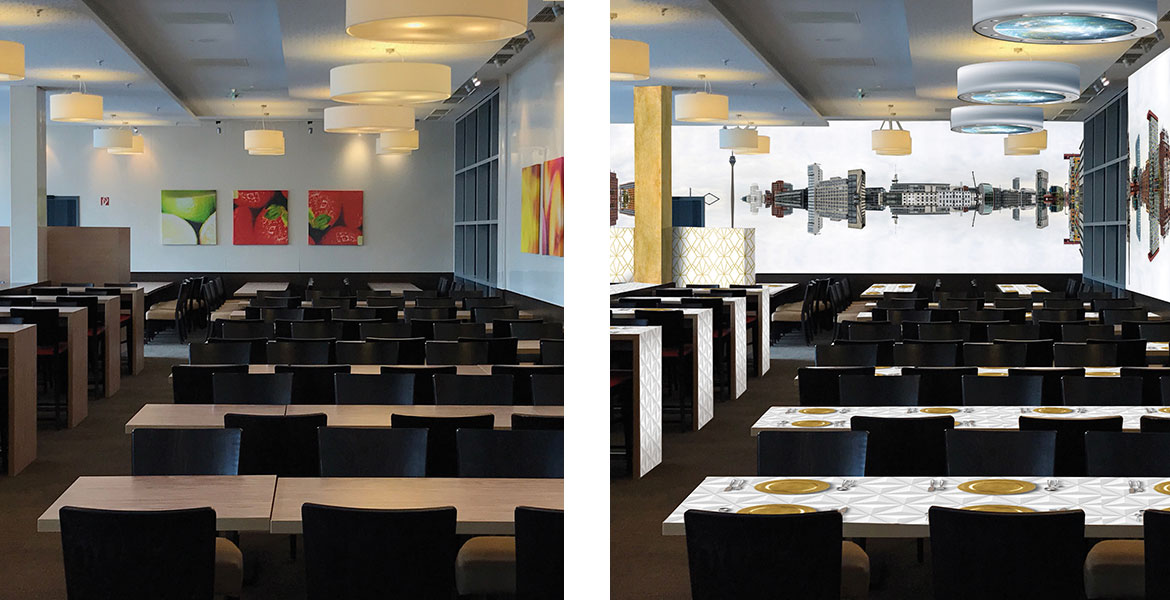 Before and after: The room has been transformed without any reconstruction. The featured print media are ideal for stores, restaurants or exhibition booth building.
LATEST PRINTING AND FINISHING TECHNOLOGIES
Digital printing applications transform restaurant fixtures and furniture or pose as decorative golden eye-catchers. Large format designs with photographs by the artist couple Bays & Zierhut transform the restaurant walls. Incorporated is a large variety of established and newly developed materials, produced with the latest printing and finishing technology.
Numerous products of the Neschen and Filmolux portfolio are incorporated. Under the umbrella of Neschen Coating, Filmolux as an independent distributor sells the Neschen product portfolio and selected retail products in Germany, Benelux, Italy, Austria, France, Sweden and Switzerland. Self-adhesive media, including the product staple easy dot®, a solution for fast and bubble-free applications, act as eye-catchers that transform restaurant fixtures, wall designs or decorative room dividers. easy dot® media are especially easy to apply, even for first-time users.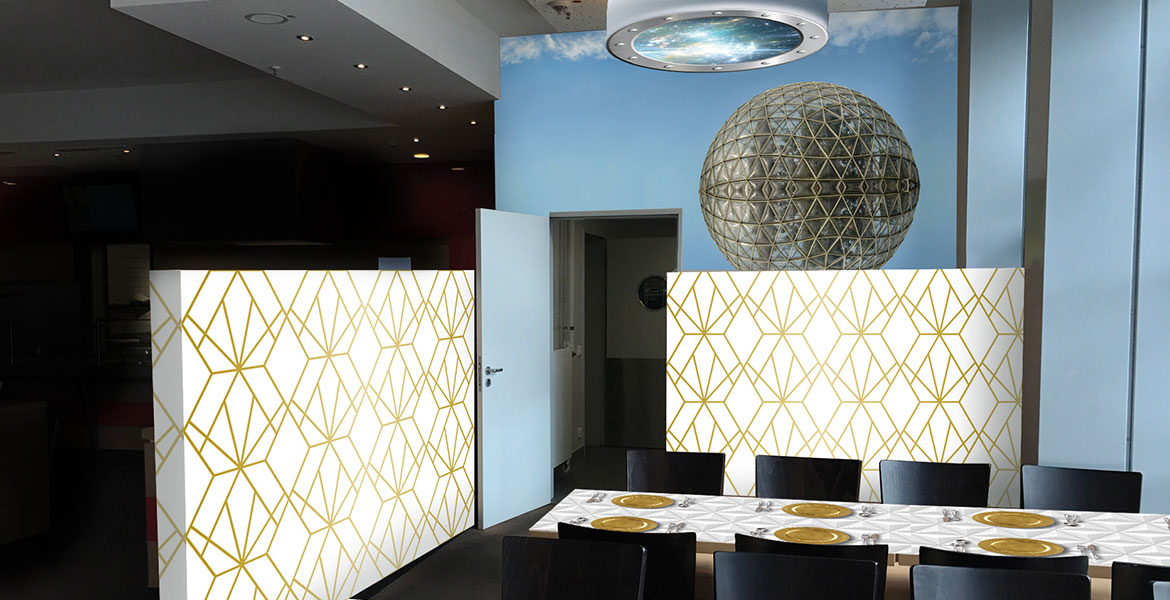 easy dot® matt application on the tables and walls of the restaurant
Eye-catching floor graphics created with UV dot print'n'walk demonstrate that the floor is just as much part of a well-rounded interior design concept as the remainder of the room. The film does not require any additional lamination and provides an R9 slip resistance immediately after printing, making it a cost-effective solution. The window front of the restaurant is also integrated into the fantastical room design, using solvoprint window-grip ultra-clear. The extremely clear polyester film has a special adhesive layer that does not show any loss of adhesion even after long periods of use. Since unprinted areas are practically crystal clear, there is no need to plot intricate patterns.
The Stanley D project shows how the possibilities of interior design are becoming increasingly diverse with the latest innovations in the digital print industry. In addition to a wide range of flexible and rigid substrates, a wide variety of printing technologies are available to redesign exteriors,
interiors and entire locations in the shortest possible time and without making any structural changes. The incorporated Filmolux-products are perfect for these types of applications as they are easily removable without leaving any residue. This makes them ideal for limited interior transformations for promotional campaigns.
The Stanley D project at the Düsseldorf fairgrounds can be visited until the end of 2020.