August 2023
Decals for social distancing: our tips for an easy implementation
Do you want to remind customers or employees to keep a safe distance? Then decals are a perfect medium to communicate this message. They are ideal both for indoor and outdoor use, for short- and long-term applications. They are also suited for many other ways to inform people about guidelines or to mark off zones; good examples are applying stickers on chairs in waiting rooms, shop windows, and on mirrors. Are you not sure how to use stickers for social distancing? In this blog, we'll show you a few examples of how you can use decals to inform your customers, employees, or visitors to make them aware of a safe distance.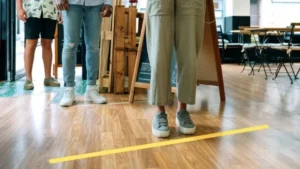 1) One-way systems with arrows
Many locations want to alert visitors that there is (temporarily) one-way traffic. Examples include the doctor's office, hospitals, or vaccination sites. A logical spot to apply these arrows is on the floor, so people can easily see which way they need to go.

2) Advantages of round decals for public areas
Round decals have a great advantage: the edges are less likely to curl and get damaged than those of stickers with sharp corners. This makes them a great choice for high-traffic areas such as restrooms, hallways, entryways, or cash registers. Since these are areas where many people walk, the floor stickers should also have an anti-slip surface, which is often mandatory.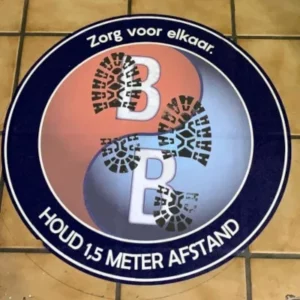 solvoprint® dot print'n'walk R10 is a suitable choice for these types of applications. Thanks to the special honeycomb structure, the film has an R10 anti-slip surface after printing with latex and (eco-) solvent inks (and an R9 anti-slip surface when using UV inks). The great thing about this 2-in-1 floor graphics film is that it is immediately ready for indoor use after printing, which saves a lot of time and money if you need to apply many decals.
The decals are very easy to remove without leaving any adhesive residue (on most common smooth surfaces).
3) Marking off chairs with stickers in waiting rooms
Sitting next to each other in a public space – something that used to be the most normal thing in the world – is now unwise. That's why it makes sense to mark off chairs in public waiting rooms so that people leave one chair empty. This is useful at the doctor's, in hospitals, and anywhere where people are seated in waiting areas.

Our advice: for smooth surfaces, choose a sticker with a dot adhesive that is easy to apply without bubbles and also easier to remove. For fabric surfaces, decals with a strong adhesive are best. Keep in mind that chairs in waiting rooms can be made of different materials, and not every sticker material is suitable for every type of surface. Always seek the manufacturer's advice beforehand and test with a small sample.
4) Rectangles for guidelines at entrances
You can, of course, hang a sign at the entrance to a store or other public area to alert visitors to adhere to the rules, but there is a risk they will be overlooked. A more logical place to do this is on the ground, as people tend to look down while walking.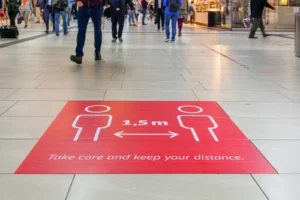 Chances are, you are dealing with a "difficult surface" at an entrance, such as concrete or carpet. Fortunately, this makes no difference for UV print 'n' walk power-tack because this textured PVC film has a high-tack adhesive. The high adhesive strength makes this 2-in-1 floor sticker suitable for applications on surfaces that are difficult to stick to, such as carpet, concrete, or wood. This all-rounder for short-term use is suitable for use with latex and UV inks. When using UV inks, the floor sticker is R9-certified. When applied outdoors in dry conditions (e.g., under a roof), the decal will last for up to 3 months.
5) Communicate announcements and policies with window stickers
Store windows are a great place to communicate announcements and policies regarding social distancing guidelines. With window stickers, you can quickly inform customers of changed store hours and current policies. On or behind glass, these stickers easily stand out. Thanks to the dot adhesive, easy dot® stickers can be easily and quickly applied and removed without bubbles, even by non-professionals. An ideal material for temporary applications.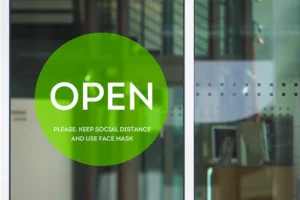 Neschen window-grip® is more suitable for long-term applications where the sticker needs to be repositioned several times. This film is available in white and transparent and has reliable adhesion thanks to a unique coating.
Social distancing decals: leaving no area unused
With this selection of different films, there is always an option that will work for your specific purpose. Are you unsure which film to use for your application? Then it's a good idea to request samples, so you can see them up close and try them out. Contact our customer service to request samples without any obligation!