August 2023
High-tack films as wall covering | An all-round solution for interior walls
So many different interiors, so many different surfaces. As an interior decorator, shop fitter, or sign maker, you regularly face challenges when it comes to walls. Not every surface needs the same adhesion performance. In some cases, you have to deal with several types of surfaces within a single project, for example, the design for numerous shops of a retail chain. In this case, the application surfaces of the various shop interiors can vary widely, and it may not always be possible to choose one and the same film. Not all films are suited for materials like structured walls (e.g., with a spack-spraying structure), concrete, chipboard, or painted walls.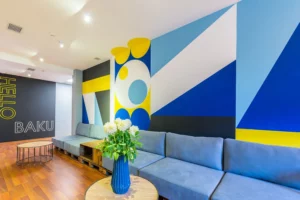 When you have to deal with various substrates in a single project, it is always wise to test a small piece of film for its adhesive strength on the designated surface. If you want more certainty regarding the adhesion of your film, choose a film with a high-tack adhesion, such as solvoprint® performance wall-grip. This film features a high-tack adhesive that is suitable for various challenging surfaces, such as rough interior walls, smooth and dry concrete, chipboard, polypropylene, or other difficult surfaces.
High-tack adhesive suitable for difficult surfaces
The StickerCompany in Eindhoven, in the Netherlands, regularly faces projects with challenging surfaces. Customers often ask whether their wall finish is suitable for applying stickers. This was also the case with a client who wanted to add new signage to their business interior. The building featured many different surfaces, ranging from varnished wood to structured walls with a spack-spraying finish. To get a clear picture of the situation, the StickerCompany asked for photos to be sent.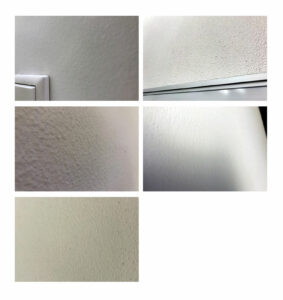 This allowed Tinus Kouwenberg, owner of the company, to make a decision as to which film would be suitable. Because of their good experience with solvoprint® performance wall-grip, this choice was easily made. The material has a high-tack adhesive that offers an ideal grip on difficult-to-adhere substrates, such as concrete, chipboard or structured walls.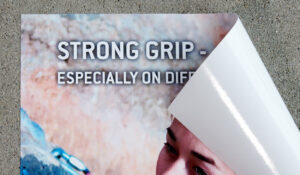 The design of the decals consists of fine details and line work, which was no problem for this film either. After the design was printed with a Canon Colorado, the signage was effortlessly cut into shape and then applied to various places in the building. Simply applying the film with the pressure of a squeegee sufficed to get good adhesion.
The result: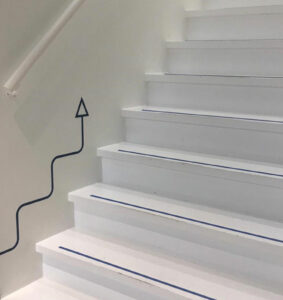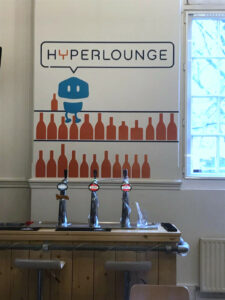 Order free sample of  solvoprint® performance wall-grip!
Order sample now!