August 2023
Professional photo mounting and laminating
Find out more about techniques like laminating with pressure-sensitive and heat-sealing films.
Double- and single-sided mounting films
When working with double-sided mounting films or single-sided protective and finishing films, a professional laminating machine is always a safe bet. This way, you will achieve clean, bubble-free results in no time. A high-quality laminator makes it easy to equip photos and prints with a protective film and a double-sided mounting film in a single application. Note: For double-sided lamination, you need a laminating machine that also features a bottom roller. To avoid the silvering effect (spots underneath the laminate), some laminating machines have a top roller that can be heated up to 70 °C (product example: Neschen HotLam 1650 Double H).
Types of photo lamination
Depending on the device, laminating machines are suitable for different methods of print finishing.
This includes
Laminating is the finishing of photos and prints with a single-sided adhesive film for protection.
Heat sealing, or encapsulation, is the sealing of prints on both sides (generally using polyester films with a heat-activated adhesive).
Heatsealing and laminating protect works of art against environmental influences such as UV radiation or humidity. Compared to unprotected prints, the durability, and longevity of sealed works are drastically improved.
For a professional display, prints can be mounted on a variety of surfaces, such as
Aluminum composite panels
Photo cards
Rigid and lightweight foam boards
Wood
Behind acrylic glass
Smooth PVC surfaces, polystyrene, polycarbonate
Coated chipboards
Laminating machines offer photographers, galleries, and museums the opportunity to present their works professionally. Additionally, when laminated with protective films, the photos, or prints are more durable because they are protected from external influences and mechanical damage.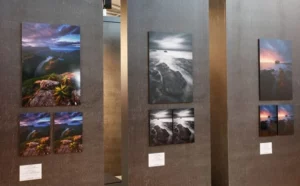 These images have been applied to Alu-Dibond boards with the double-sided mounting film gudy® 802.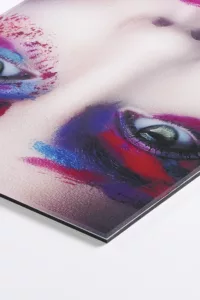 Outstanding results: This image has been mounted behind acrylic glass (product used: gudy® ultra clear.)
To create the illusion of depth and spectacular colors, mounting behind acrylic glass is a great choice. A highly transparent mounting film, such as gudy® ultra clear, is ideal. Its strong adhesive strength creates a reliable bond. This product has a high-quality, clear polyester cover with a low electrostatic charge.
Work equipment for professional lamination
Knife and ruler for cutting pictures and films
cleaners and soft cloths for working surfaces, laminating machines, etc.
Tip:
To clean board substrates such as Forex, Simona, Komacel, or fluted PVC, you can use IPA Isopropanol Alcohol, White Spirit or special plastic cleaning agents.
Important:
After cleaning the panels with a cleaning agent, allow them to evaporate sufficiently before you start laminating.
PCR roller to remove dust from the images before lamination without static charge
PCR cleaning pad for cleaning the PCR roller
cutting mat as a base for cutting
Adhesive tape as a fixing aid and for sealing rolls
Gloves: basically, all prints should only be handled with cotton gloves. This way, you avoid annoying fingerprints or other soiling.
For single-sided lamination, create a work surface by using a panel. You need a panel with a smooth surface (e.g., PVC, polystyrene, acrylic glass, or aluminum). We recommend a 3 millimeter-thick polystyrene board. Cut the panel to the working width of the laminator. The length can be chosen at will. Then equip the sheet with a double-sided adhesive material (e.g., gudy® 802 or gudy® 808). Cut off the protruding edges of the film and leave the protective or masking paper on the panel. Since the backing paper is an adhesive repellent (it is siliconized) on both sides, the panel can be used to laminate images even with wider films without any problems. The finished image can be removed without leaving any adhesive residue.