August 2023
Graphics for an eye-catching store opening
When you open a new store or a new restaurant, of course, you want to stand out and be seen by your target audience. You want potential customers to be able to easily find their way to your business. There are many ways to inform customers about this. Think of door-to-door magazines, flyers or billboards. In addition to these promotional possibilities, there is another powerful way to promote your new business: digital print media! This way, you can tell curious passersby about what is going to happen in the building and even encourage them to come back later. In this blog, we will tell you more about the use of graphics media for a (re)opening of a store or restaurant and which films are is useful for this kind of promotion.
Using an old location for promotion
In December 2019, Burger King opened a restaurant at Jansstraat 43 in Arnhem, Netherlands. The former restaurant on Weverstraat was therefore closed with the arrival of the new location. But this does not mean that the old premises are no longer usable for promotion. The restaurant at the new location is, in fact, about 100 meters away from the former location. By placing window stickers on the old building, Burger King, appeals to both its existing and potential clients. The potential customers know immediately that there will be a 'new' Burger King and existing customers are approached to come and visit the new location. They know that from now on, they have to walk a little further to their favorite restaurant. The 'tasteful' visuals catch the eye immediately, making the route to the new restaurant unmissable!
Photos: The "tasteful" visuals were printed and applied by Stickercompany from Eindhoven, printed on Neschen easy dot®.
Tips for the opening of your store or restaurant
The (re)opening of your store or restaurant is a festive moment where you want to stand out as much as possible. Try to look beyond a standard balloon arch or red carpet. With printed media, you determine exactly how your communications will look, personalized and in line with your corporate identity. Be creative and give standard elements a new look, which is very original! We have listed a number of tips for keeping your opening as original as possible by using print media.
1. Make use of eye-catching communication tools
Besides the fact that the purpose of an advertisement is to attract people to your store or restaurant, it is also important that people increasingly come into contact with your brand and stand behind it. Therefore, use means of communication that completely match your corporate identity and brand. For example, choose to place a food truck with your branding on it. People love food. Especially if it's free! Magnetic films are an excellent choice for this. Printed magnetic visuals adhere to ferrous surfaces, such as those of a food truck, by means of a magnetic coating. Because no adhesive is used, the film can be removed quickly and easily, damage-free, after the campaign.
2. Floors always work
People get more than enough flyers pressed into their hands when they visit the city. Just handing out flyers with some information on them is not enough. Take your branding a step further. If we have learned anything from the Corona crisis in terms of communication, it is that the attention value of floor stickers is extremely high. So it's the ideal medium to get noticed during your opening! Use them as signage or to promote a discount, by using a 3D effect your floor sticker will stand out even more!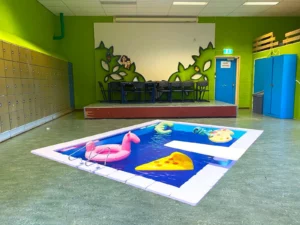 Photos: Stickercompany, NL;  @SOCIALINC, NL; Wellantcollege, NL
The Dutch content and social media agency @SOCIALINC created a beautiful TikTok campaign for Wellantcollege. They placed a cool 3D floor sticker of a swimming pool in ten places. Very TikTok-worthy!The stickers were printed and applied on site by Stickercompany from Eindhoven. They printed the stickers on UV print'n'walk power-tack. UV print'n'walk power-tack is a 200 μm matte white textured PVC film specially developed for floor stickers. The film has a strong adhesive that is suitable for use on hard-to-bond surfaces such as carpet, concrete, and wood.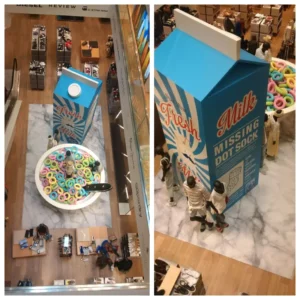 Another example of great floor graphics is from Peek & Cloppenburg in Düsseldorf, who drew attention to their campaign with a life-size object with floor stickers. The mega milk carton with cornflakes is not to be missed. The "marble" surface was printed on UV dot print'n'walk from Neschen. A playful action that catches the eye immediately and that people talk about!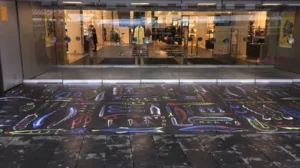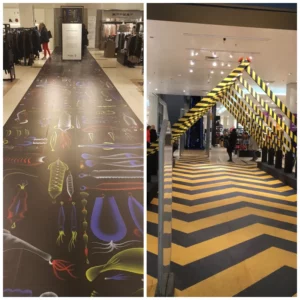 Photos: During the Dutch Design Week of 2016 and 2017, floor stickers were used to mark the entrance, printed and applied by Starfoto, Veldhoven.
Rolling out the classic red carpet is far from original, but by giving it a new look using floor stickers, you can completely customize your entrance to match your own corporate identity. During Dutch Design Week in 2016 and 2017, the entire entrance to the Bijenkorf was fitted with floor stickers, a contemporary alternative to the classic red carpet.
3. Give something of value
All those paper flyers, snacks that you immediately finish, and ballpoint pens that you can throw away after writing twice are very nice, but people expect more. Make sure you can give your (potential) customers something of value. You can also respond well to the seasons. For example, do you open in the summer? Then think about sunglasses, caps, or sunscreen with your branding on them. Do you open in the winter? Then think about gloves, scarves, or sustainable bags with your branding. If you spend a little more on quality, people are more likely to use these incentives. You will soon see everyone in town walking around with sustainable linen bags with your brand on them!
Promote the opening of your store or restaurant with digital print media
Even though Burger King's colors are unmissable anyway, this signage campaign helped well. The stickers stood out, and the route to the restaurant, was not to be missed. Furthermore, for the opening of your store or restaurant there are plenty of possibilities for the use of signing. Curious about what is possible with print media for your business? Besides the above tips, we like to give specific advice. Therefore, please contact us if you have any questions.
Order free samples of UV print'n'walk power-tack!