September 2023
Designed to meet the needs of cost-conscious customers: Neschen introduces new EcoLam 1650 quality laminator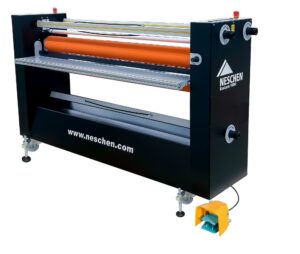 Neschen EcoLam 1650
Integrated air-compressor for consistent pressure
Top roller heat assistance (adjustable temperature 40 °C or 50 °C)
Expandable with useful upgrades for more functions
The focus of the new EcoLam 1650 was on a lower price, with maximum functionality and highest quality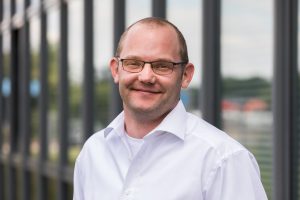 The first Neschen laminator was presented in 1974. Almost 50 years later, this success story is still being continued. This is demonstrated with the new development: "With the EcoLam 1650, we wanted to target customers for whom the price segment of our top laminators is too high, but who demand the renowned Neschen quality." stated Stephan Liegerer, Head of Machines at Neschen Coating. To this end, functions that were not absolutely necessary were outsourced and transferred as upgrades that could be integrated even at a later date. For example, the EcoLam 1650 can be retrofitted with a high-speed motor to increase the processing speed to up to 8 m/min. Furthermore, a cutting unit or an additional axis for the roll-to-roll function can be added.
"Not all functions are required by every customer and application. So the customer decides on his needs with the security of being able to adapt them. But when it comes to the keyword quality, such as the large, heavy and high-quality rollers, we do not compromise – they stay!" promises Liegerer.
Products that must be experienced to function
"Interested customers can get an impression for themselves. Visit us on site at the company's headquarters in Bückeburg, Germany, or at international trade shows.", commented Moritz Weber, Head of Marketing and invites customers and interested parties to the exhibitions, e.g., at Printing United 2023 in Atlanta, Georgia, from October 19 – 21, 2023 in the USA, or at FESPA 2024 in Amsterdam, from March 16 – 19, 2024 in the Netherlands.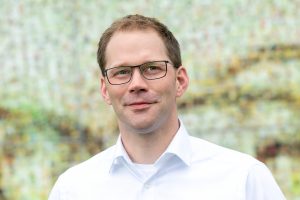 Orders for the EcoLam 1650 laminator are being accepted as of now
Neschen distributes its quality laminators in Europe through the network of its subsidiaries, the Filmolux Group, in Germany, France, Italy, Belgium, Netherlands and Luxembourg, and additionally in Switzerland. Sales in the USA are handled by the Richmond-based wholly owned subsidiary Neschen Inc. and its partners. In other countries, you can contact Neschen through distributors. They will be happy to tell you where to find a local dealer, to keep an eye on the novelty.
Extensive after-sales support
The development of the laminators from Neschen is always focused on the customer requirements. In particular, ergonomic operation, customer-friendly maintenance and operational cost-effectiveness determine the development work. This applies to the entire range of laminators: EcoLam 1650, ColdLam 1650, HotLam 1650 TH, HotLam 1650 DH and the PhotoLam 650. Customers can exchange and repair parts without any problems, which provides for a cost-efficient operation and maintenance of the laminators. Trainings, a comprehensive after-sales support and expert technical advice from the service staff of the machine department complete the service of the Neschen laminator family.
Direct link to the Neschen laminators: https://www.neschen.de/en/product_category/laminating-machines/
What is a laminator?
Neschen large-format laminators are intended for applying laminating, double-sided and backing films using pressure and almost always heat to activate an adhesive layer to large-format prints, plates, boards and similar products. These films thus create a firm bond to the medium and are used for mounting, protection or other further processing options. The areas of application range from the protection and finishing of graphic media, book protection and repair, to tailored industrial applications