October 2019
Underestimated advertising space: Implementing floor graphics made easy
While many marketeers use window decals for their winter promotions, floor graphics films are often not incorporated into campaigns. However, the floor is one of the best areas to place advertising in stores – after all, everybody tends to glance to the floor when trying to make their way through the frenzied Christmas-shopping crowd.
Tips for working with floor graphics films
Selecting the right adhesive strength
For difficult surfaces such as asphalt, concrete, wood, carpet or paving stones, a high-tack solution is best because it ensures optimum adhesion. A high-tack film is also the better choice, when working with surfaces that have wide joints. For "normal" floors, floor films or floor graphics compounds with standard adhesives are a good option. The easiest way for a perfect application is to select films that guarantee a bubble-free application.
Slip resistance
In public areas, a certified slip resistance is absolutely necessary. When choosing a material, it is paramount that the film's slip resistance properties have been properly tested by a lab and an official certificate has been issued. In order to achieve the specified slip resistance, some floor graphic films must additionally be laminated with a protective film after printing. However, you can save yourself the cost and time if you choose films that remain non-slip certified after printing – even without a protective laminate.
Fire protection certification
In addition to anti-slip properties, films used for floor advertising must also a have fire protection certification (e.g. European standard EN 13501-1).
Durability
When choosing floor graphics films you should check whether they are suitable for short- or long-term promotions. For long-term applications, films with protective laminates are more suitable as they protect the inks from abrasion. Directly printable non-slip films are a good solution for a time frame of several weeks.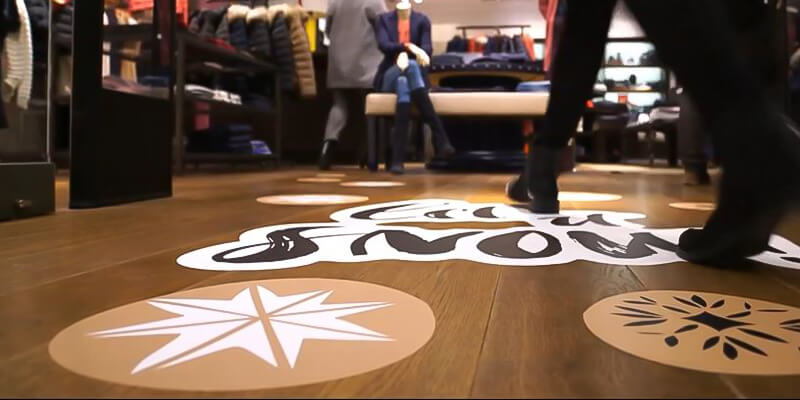 Image: Even suited for high traffic areas are films that have been laminated with a protection film.
Product tips:
Depending on the time frame for which the campaign is planned, these floor films can also be used without protective laminates:
UV dot print'n'walk
UV dot print'n'walk transparent
UV print'n'walk power-tack
Protective laminates:
filmolux easy clear sand
filmolux nippon plus
filmolux scratch
filmolux FGS (protects floor graphics films for up to one year)
Order your free samples and discover some of our best floor graphics products
Do you have questions or would you like a sample? Contact our customer service – we look forward to hearing from you!