December 2022
The PVC-free, crystal-clear polyester film, easy dot® PET transparent L-UV, is now available in additional widths
The easy dot® PET transparent L-UV enables attractive and innovative glass surface design without placing an unnecessary burden on the environment. With the new additional widths of 106.7 and 160 cm, it is now possible to make production even more efficient and flexible. The amount of waste is reduced even further thanks to fewer off cuts. Another green plus point, for the self-adhesive, PVC-free printing film from Neschen.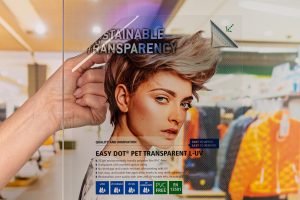 The transparent printing film for crystal clear advertising messages
Thanks to the proven water-based and solvent-free easy dot® adhesive technology, the PVC-free easy dot® innovation is an excellent option for applying adhesive to glass and window surfaces indoors, as the unprinted areas are absolutely transparent.
Both permanent and short-term designs are possible, since in addition to fast, bubble-free application, easy removal is also no problem. Even in the "kiss-cutting" process, easy dot® PET transparent L-UV can be cut without any concerns. This keeps all options open for further processing. When applied to the inside of shop windows – with a mirror print – the durability is increased many times over, as it is thus protected from environmental influences and vandalism.
If required, easy dot® PET transparent L-UV can also be combined with PP matt backing. The white special film serves as a laminate and completely replaces a full-area white print. This saves ink, time, and money, making it ideal for environmentally friendly composite applications with transparent media.
HP-certified for best results with latex and UV inks, easy dot® PET transparent L-UV enables particularly durable print results in high optical quality. The film is very stable and does not show any shrinkage.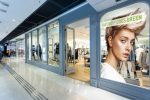 The ecological properties of easy dot® PET transparent L-UV
Since Neschen always develops its product innovations with the environment in mind, the new easy dot® film is also PVC-free. It also enables material savings of around 25 % compared to PVC products, significantly reducing waste volumes. This can be reduced even further with the new widths, as the variability saves on material.
With an EN 13501 certification, it has the best possible fire protection class for polymer films, B-S1,d0. easy dot® PET transparent L-UV is available in widths of 106.7, as well as 137.2, and 160 cm.