August 2023
Digital print media: Vaccination site in Israel features eye-catching decals
We are making good strides in the fight against COVID-19. On December 8, 2020, the United Kingdom started to administer the first Corona vaccinations. In the Netherlands, Germany and Belgium, national vaccination programs have been relatively slow to start. In contrast, Israel is the country that has vaccinated the largest percentage of its population. By the end of January, at least 32 percent of Israelis had been fully vaccinated against Corona. If a resident goes to a vaccination site, it is of course important that they know how to find the site easily in the building. Therefore, Art Design ltd provided one of the largest health care institutions in Israel with appropriate signage.
easy dot® for easy applications
The stickers applied to the vaccination location read: "Here you can get the COVID vaccine", so that it is easy for any visitor to find where they need to go. These stickers have been deployed in a variety of ways. The stickers can be found at both elevators, walls and floors. On the walls and elevator doors, Neschen's solvoprint® easy dot ® matt was used. solvoprint® easy dot®  matt is 100 μ monomeric PVC self-adhesive vinyl. The self-adhesive vinyl is equipped with a dot adhesive, which features small air channels in the adhesive. This way, the film is easy to apply, reposition and remove without leaving adhesive residue. Art Design Ltd. has loved easy dot® product for years. For the floors, they have also chosen a material that is quick and easy to apply: UV dot print'n'walk®.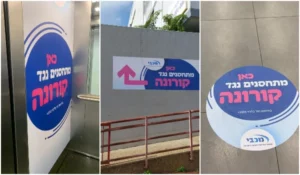 This is a PVC film specially developed for floor stickers. The film is equipped with a special dot adhesive which makes it easy to apply without bubbles. The advantage of the film is that it can be printed directly on the structure and lamination is no longer necessary.
Getting started with decals? Read some tips here!
Do you have a project in which you want to apply decals in a building from head to toe? But you don't know which materials to use? Below we have listed a few tips for you.
Determine strategy: Before you start your signage job, it is important to first determine a strategy. Ask yourself these questions: For which audience are the stickers intended? Be clear and unambiguous in your communication and adjust the "tone of voice" to your target audience. Applying one fixed tone in your signage makes you as an organization recognizable and is co-determinative for your image. How big is the location? Make sure you have adjusted the volume of your signage to the size of the location.
Too many stickers can mean that your message no longer stands out and becomes part of all the "background noise". If you use too few stickers, you run the risk of not getting your message noticed at all. Especially in the case of routes near vaccination sites, you want your signage to stand out and to ensure that people arrive at their destination efficiently and quickly. What surfaces are there? Before you get started, map out all the different substrates. The substrates are, to a large extent, decisive for your choice of material. Not every sticker material is suitable for every surface. This is why you should always test whether the sticker adheres well to the surface by applying a sample and carefully reading the product's technical data sheet.
How long should the signage remain in place? The duration of the durability of your stickers is important when choosing the material. Should the stickers remain in place for just a few months, a whole year or perhaps even longer? Especially with floor stickers it is important to check this beforehand, especially if the stickers have to withstand thousands of footsteps. What are the most important contact points? Choose the location of your stickers carefully, make sure that all important contact points are provided with the sticker with the correct information for that location. Stickers at the parking lot, for example, contain different information than the stickers in the waiting room. To be sure that you do not miss a location, it is wise to test the route yourself. Which places stand out / where is there a need for information or signage? And what information does a visitor need at that location. What information is most important to give? Following on from the previous question, also consider the most important information that you want to give visitors. This information should be given the most prominent place inside or outside your building. If you have mapped out your location well, then it is time to move on to the choice of materials:
1.The walls
For temporary signage on normal, smooth walls, you can use easy dot just like at the vaccination site in Israel. This is quick and easy to apply and remove. An additional advantage of this film is that it is scratch-resistant and therefore not easily damaged.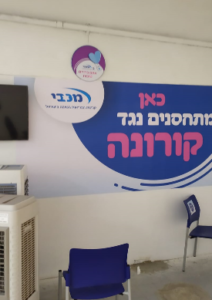 Are you dealing with a difficult surface such as structure, spackle or concrete? Then choose a film with a high-tack adhesive such as solvoprint® performance wall-grip or FILMOfloor Rug'n'Wall.
2.The floors
For short-term applications, 2-in-1 floor sticker materials are ideally suited. These films are anti-slip certified and do not require lamination. For normal, smooth indoor floors, choose UV dot print'n'walk or solvoprint® dot print 'n' walk R10 for difficult surfaces such as carpets or untreated stone.
For untreated stone floors such as tiles and concrete, choose UV print'n'walk power-tack.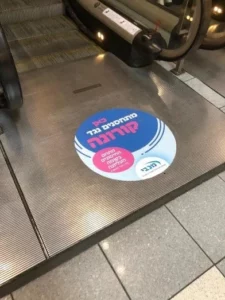 For long-term applications, a vinyl in combination with an anti-slip laminate is better suited. The laminated film protects the print better against mechanical stress, dirt, scratches and damage and, therefore, has longer durability.
3. The windows
You can choose solvoprint® easy dot® clear or transparent or UVprint PP easy dot® transparent if you prefer a more sustainable alternative. These films can be mirror printed on the inside of the window. This protects the print against weather conditions and vandalism. Thanks to the dot adhesive, the film is easy, quick and bubble-free to apply. A beautiful end result: Art Design ltd was pleased with the application of the various stickers.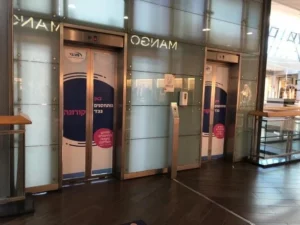 Especially because this film is so easy to apply, which was a great advantage. The vaccination location in Israel is also happy with the end result. The stickers stand out, they look nice and they make it easy for everyone to find the location.
Order free samples of FILMOfloor Rug'n'wall!
Order sample now!