hygienic book protection
NEW: filmolux® soft organic
Environmentally friendly book protection film made from the renewable, natural raw material sugar cane.
Description
filmolux® soft organic is THE environmentally friendly and antimicrobial book protection film for everyone. It can be applied very easily and without bubbles. Minor filming errors can be corrected when applied to almost any surface. The film protects books from dirt and wears, thus extending their lifetime. Easy cleaning and disinfection are possible without any problems.
The cover is made from 100% recyclable PE film. Its separation cut makes it easier to remove the cover from the film during processing. The cover´s printed grid also enables easy cutting.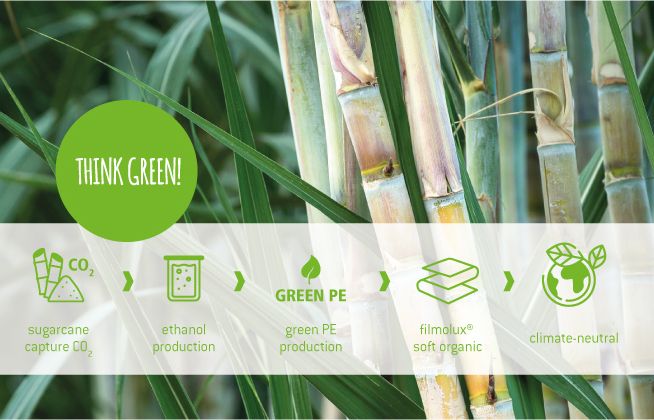 90 μm glossy, bio-based PE film with UV protection
Reduced initial adhesion
Antimicrobial effect tested according to ISO 22196
Water-based acrylic dispersion adhesive: solvent-free, resistant to ageing, permanently elastic, pH-neutral
Backing made of 100% recyclable PE-film with grid for easy cutting
APEO- and BPA-free, produced according to REACH
Sizes
| | | |
| --- | --- | --- |
| 6044838 | 25m x 22cm | 40 mm core, film inside |
| 6044839 | 25m x 24cm | 40 mm core, film inside |
| 6044839 | 25m x 24cm | 40 mm core, film inside |
| 6044839 | 25m x 24cm | 40 mm core, film inside |
| 6044839 | 25m x 24cm | 40 mm core, film inside |
| 6044839 | 25m x 24cm | 40 mm core, film inside |
| 6044839 | 25m x 24cm | 40 mm core, film inside |
| 6044839 | 25m x 24cm | 40 mm core, film inside |
| 6044839 | 25m x 24cm | 40 mm core, film inside |
| 6044839 | 25m x 24cm | 40 mm core, film inside |